Inside ProsperWorks: Using CRM in Product Development
Think only sales teams use CRM? Think again.
There are many strategies to implement CRM software into product development - while it varies across companies and teams, the system used depends on the needs and goals of the company.
As a Product Manager at ProsperWorks, Ursula Shekufendeh is responsible for leading the strategic side of the product - from research to development, to deployment. In order for Ursula to have a comprehensive understanding of which direction ProsperWorks will head in, CRM data is essential in building better products.
Just how does Ursula and our other Product Managers use the available features in ProsperWorks?
Conversation Tracking
"Our sales team works directly with each of our clients on an intimate level, and they're required to track all conversations inside ProsperWorks. In general, they receive a lot of feedback, along with ideas for improving the product," says Ursula.
Ursula has been "researching users' email practices and recently looked up the word "template" in ProsperWorks search to find communications our reps had had with prospects or customers related to emailing and email template needs." By monitoring those communications, Ursula and her team have a better idea of what's working and what could be improved around email templates.
"I often search through logged activities on my own. This eliminates the need to go question a sales rep and disrupt their workflow." At the same time, if questions do arise, ProsperWorks is able to point Ursula in the right direction. "If I need a deeper dive on feedback, I can use ProsperWorks to see which Account Executive is managing the client. From there, I give our internal team a heads up and determine the best method of reaching out to a client."
User Research & Usability Tests
Ursula also uses ProsperWorks to do preliminary research on a customer or company before contacting them personally. She notes, "I have used ProsperWorks to see where customers are located so that I can keep that in mind when scheduling calls with them."
Regarding those that are new to ProsperWorks she explained, "We often like to examine the first-time user experience." When the Product team conducts a usability test, they use ProsperWorks to keep other stakeholders in the loop. "If a trial user is giving us feedback, we'll log notes for our SDR team to refer back to."
"We learn a lot during our conversations and usability tests with clients. If there is information relevant to other team members, we leverage the @mention functionality to call their attention to a particular note. For example, we let our customer success team know if we discovered a user needs assistance with a particular feature."
Feature Validation
The combination of qualitative data from ProsperWorks, customer interviews and multiple other sources is then leveraged to support user stories and validate features. "ProsperWorks helps identify which customers will contribute to validating certain features and decide the best way to move forward in product development," Ursula says. They also help determine whether or not a feature is included in the journey to get closer to the perfect product.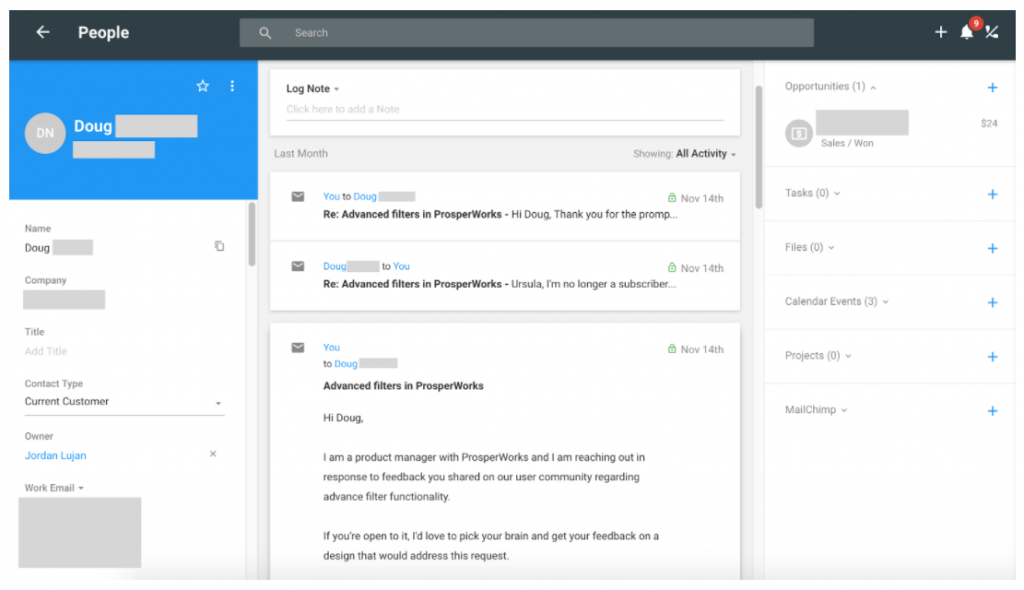 Creating a Product Roadmap that Reflects Users' Voices
As soon as features have been validated and the direction in which they will head is outlined, Ursula and her team are able to develop a strategic product roadmap. "We present the product roadmap by telling the ProsperWorks story in a way that shows our understanding of the market and our clients."
Ursula sums it up best by stating, "Staying on top of customer feedback absolutely fast tracks product initiatives." To learn more about how the ProsperWorks team uses ProsperWorks, check out the entire Inside ProsperWorks series.